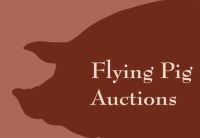 Weekly Auctions of Exceptional Items
Upcoming Auctions
Reviews
Past Auctions
Record Results
Upcoming Auctions from Flying Pig Auctions
Flying Pig Auctions has no upcoming auctions.

Follow this

auctioneer to hear about new auctions.
Bidder Reviews for Flying Pig Auctions (106)
8 Latest ReviewsSee All
Carol
Myersville, Maryland
Wonderful Experience-Very Fast Shipping-A Delight!
After winning 29 different lots (about 60 + items) from this first time for me auction house, I was a little nervous about the shipping accuracy and safety of my items. I didn't need to worry, as everything arrived within a few days, perfectly packed and shipped. I have several pre-auction questions which were quickly and professionally answered. I love all of my items, and I really enjoyed my experience with Flying Pig Auction House. Hope to be back for more fun buys in the future.
Excellent Experience w/Flying Pig Auctions
Initial contact w/FP consisted of viewing online listings for items, which I found lacking condition reports, a problem that plagues too many OL auctions. After that, it was all excellent, including 1st hand inspection of the items, email contacts, shipping. An experienced, professional operation in the same space as 1 of the best antiques centers I've ever been to, and I've shopped many over a 26 year period.
Candice
New Orleans, Louisiana
Horace
Fairfield, California