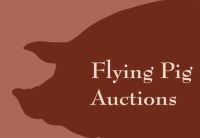 Weekly Auctions of Exceptional Items
Upcoming Auctions
News
Reviews
Past Auctions
Record Results
Upcoming Auctions from Flying Pig Auctions
Flying Pig Auctions has no upcoming auctions.

Follow this

auctioneer to hear about new auctions.
Bidder Reviews for Flying Pig Auctions (125)
8 Latest ReviewsSee All
Sheila
North Andover, Massachusetts
Fabulous Auction Company!
The Woman who runs this auction house went above and beyond to sort my lot out (i didn't want all items and didn't want to pay the extra shipping to have unwanted items sent.) She couldn't have been sweeter!!!!! and Don't you love the name of the company? With what's going on in the world these days, anything that brings a smile to your face......! And, on top of that, a wonderful, friendly person is there to take care of business! What more could you ask?
Cecile
Rehoboth, Massachusetts
I love Flying Pig Auctions and have purchased many, many items from them over the years.
Flying Pig always offers a broad array of appealing lots. Descriptions and photographs are always clear, so you know what you're bidding on. Their payment and shipping processes are among the very best. I never miss their auctions.
Great people
Went above and beyond getting me my items, Great folks to do business with
Martha
Portsmouth, New Hampshire
Kay
Bowling Green, Kentucky
News about Flying Pig Auctions